News Articles
The latest news for classical music professionals.
11:59AM GMT (19 hours, 9 minutes ago)
'Bagpipe lung' warning for wind musicians
They describe a rare but fatal case of what they are now calling "bagpipe lung" in a 61-year-old patient. The deceased man is thought to have developed a bad reaction to mould and fungi lurking inside the moist interior of his bagpipes.

12:46PM GMT (2 days, 18 hours ago)
Shanghai Isaac Stern Violin Competition reveals scores of eliminated quarter-final candidates
The move reflects the competition's commitment to transparency – the scores of all eleven judges are revealed, in addition to their vote of 'yes' or 'no', indicating whether or not they believe the violinist should progress to the next round...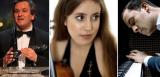 12:27PM GMT (2 days, 18 hours ago)
Gramophone Awards 2016: Antonio Pappano, Igor Levit, Barbara Hannigan and Les Arts Florissants among winners
Rachel Podger and Andris Nelsons also take awards this year.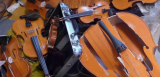 12:26PM GMT (2 days, 18 hours ago)
Look away now: this violinist claims his ex-wife SMASHED all of his violins
A violinist and violin maker has posted a video showing the extensive damage done to his violin collection by, he claims, his ex-wife.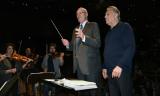 4:53PM GMT (3 days, 14 hours ago)
Peru's half-Jewish president conducts Israel's Philharmonic in Lima
"More than 1,400 people who attended the concert celebrated the pleasant surprise and revelation of our president as a conductor. Later, conductor Mehta did the same with the anthem of Israel," read a note from the Lima Philharmonic Society.

4:30PM GMT (3 days, 14 hours ago)
Italian soprano Daniela Dessi dies at 59 after brief illness
In a statement Saturday, La Scala said Dessi's solid technique, strong temperament and "rare interpretative sensibility" made her one of the "most notable figures on the international operatic scene."
11:01AM GMT (4 days, 20 hours ago)
Marital harmony leads to musical bliss at symphony orchestra - Boston.com
I think it's pretty cool," said Cathy Basrak, a viola player with the BSO who's been married to timpanist Tim Genis since 2003. "But it's not surprising. I always knew there were a lot of married couples in the BSO, and it makes sense that the chorus has so many married couples as well."
7:50PM GMT (5 days, 11 hours ago)
Semi Finalists Announced at $100000 Shanghai Violin Comp
The 2016 jury comprises: David Stern (Co-Chairperson) Vera Tsu Weiling (Co-Chairperson), Boris Kuschnir, David Cerone, Daniel Heifetz, Zakhar Bron, Maxim Vengerov, Martin Engstroem, Emmanuel Hondré, Elmar Oliveira, Jian Wang, Zhenshan Wang and Lina Yu.
4:54PM GMT (5 days, 14 hours ago)
This 40000-year-old flute sounds truly haunting and otherworldly - Classic FM
This 40000-year-old flute sounds truly haunting and otherworldlyClassic FMIt's comforting to know that during the long, cold winters of the last ice age, Germans were able to enjoy the uplifting music of the flute. The oldest known flutes in the world are from caves in southwestern Germany and have been dated to 43,000 years ...
3:05PM GMT (5 days, 16 hours ago)
Does Mozart Defy the Limits of Dance?
"I'm sick to death of being told no one can choreograph to Mozart!" Mark Morris practically yelled from his desk at the offices of the Mark Morris Dance Group in Brooklyn a few weeks ago. (He is not known for his tact.) "Everything is so masterpiecey ...and more »
9:04AM GMT (5 days, 22 hours ago)
Sad news: Busiest oboist on record has died - Slipped Disc
Slipped Disc has been informed by friends who visited him this month that Neil Black, principal oboe of four London orchestras, has died at the age of 84. Neil was successively principal of the London Philharmonic, Academy of St Martin in the Fields, English ...
Musicalchairs is not responsible for the content of external websites.